Visual NAND Reconstructor 3.5 update
Dear users,
We are excited to publish next huge software update right before the conference! This one is simply amazing! There are three truly revolutionary and new unique tools we added:
New File carver with integrity control

New SQLite carver

New Smart Read Retry algorithms (beta)
This is a new mode that allows to find files bypassing file system. It can find a file and tell exactly how good or bad the file is using built-in integrity control. Now you can find files in the cases where file system is corrupted, you can analyze fragments of pages and blocks of flash memory or recover deleted files with precision that hasn't been achievable before.
You can scan image using file carver or open file system viewer in order to check integrity/quality of files (it's not just a header check, it is internal file integrity check!).
There are several file formats fully supported now:
JPEG

MS Office (docx, xlsx, pptx, and others)

Zip archives

Other files which based on zip archives (Open Office files, etc.)
The new file carver can not only find and check JPEG files but also save damaged files into three separate folders: Bit errors (light damage), Medium damage (fragments of picture can be shifted and puzzled) and Critical damage (file cannot be opened). We know for sure this will save you hours!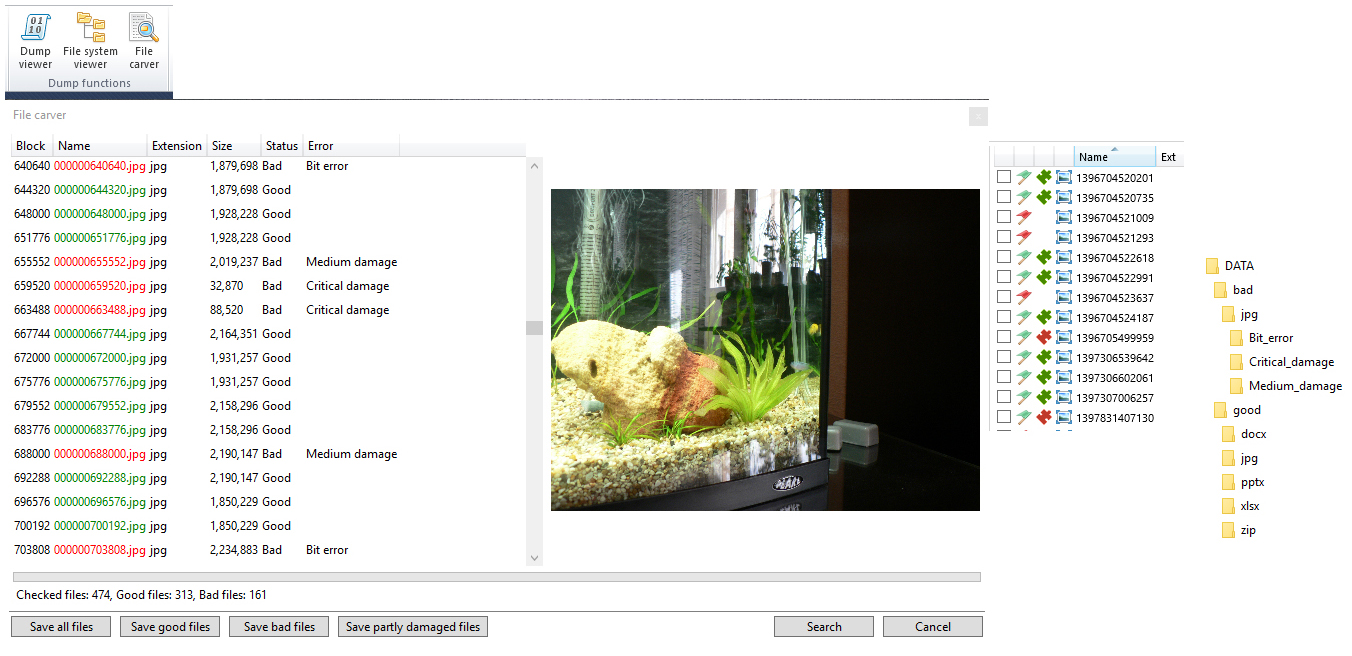 The new SQLite carver allows to automatically create carving template which can retrieve all possible data from every corner of dump in allocated and unallocated space. It works on database files, partitions and the whole dump. It can automatically recognize various data types and use the appropriate converters to transform data to a readable form.
There are few simple steps you need to perform in order to retrieve deleted data from practically any app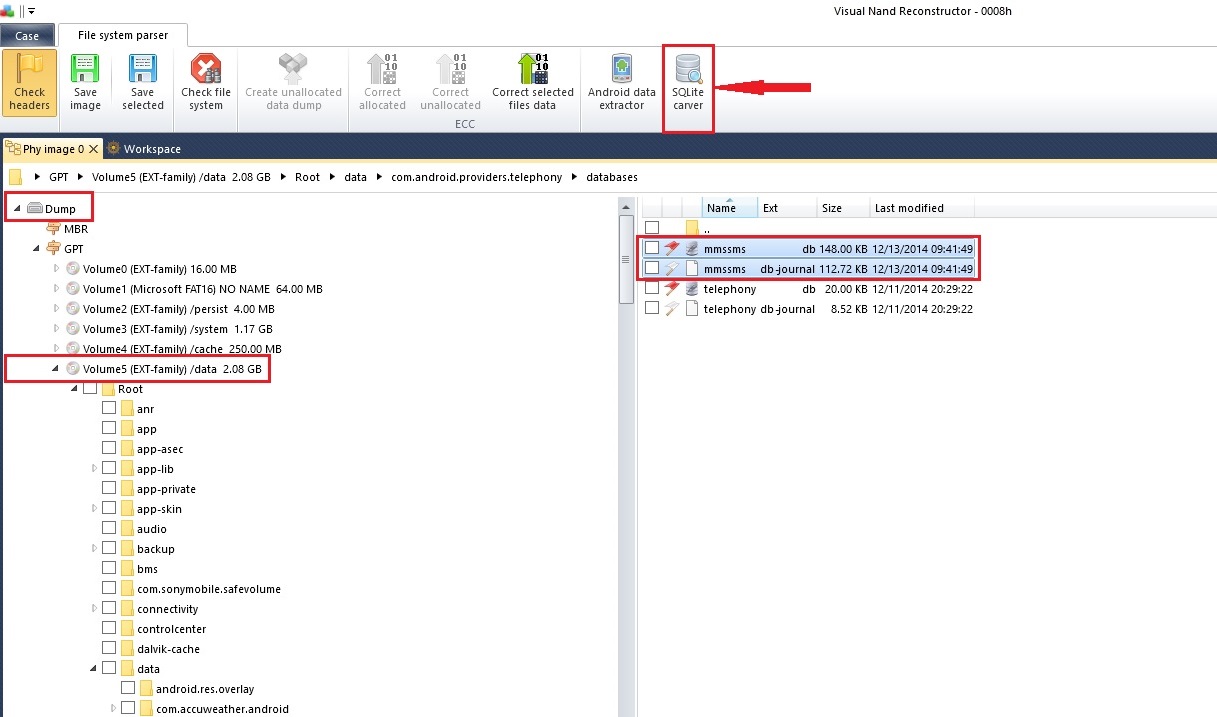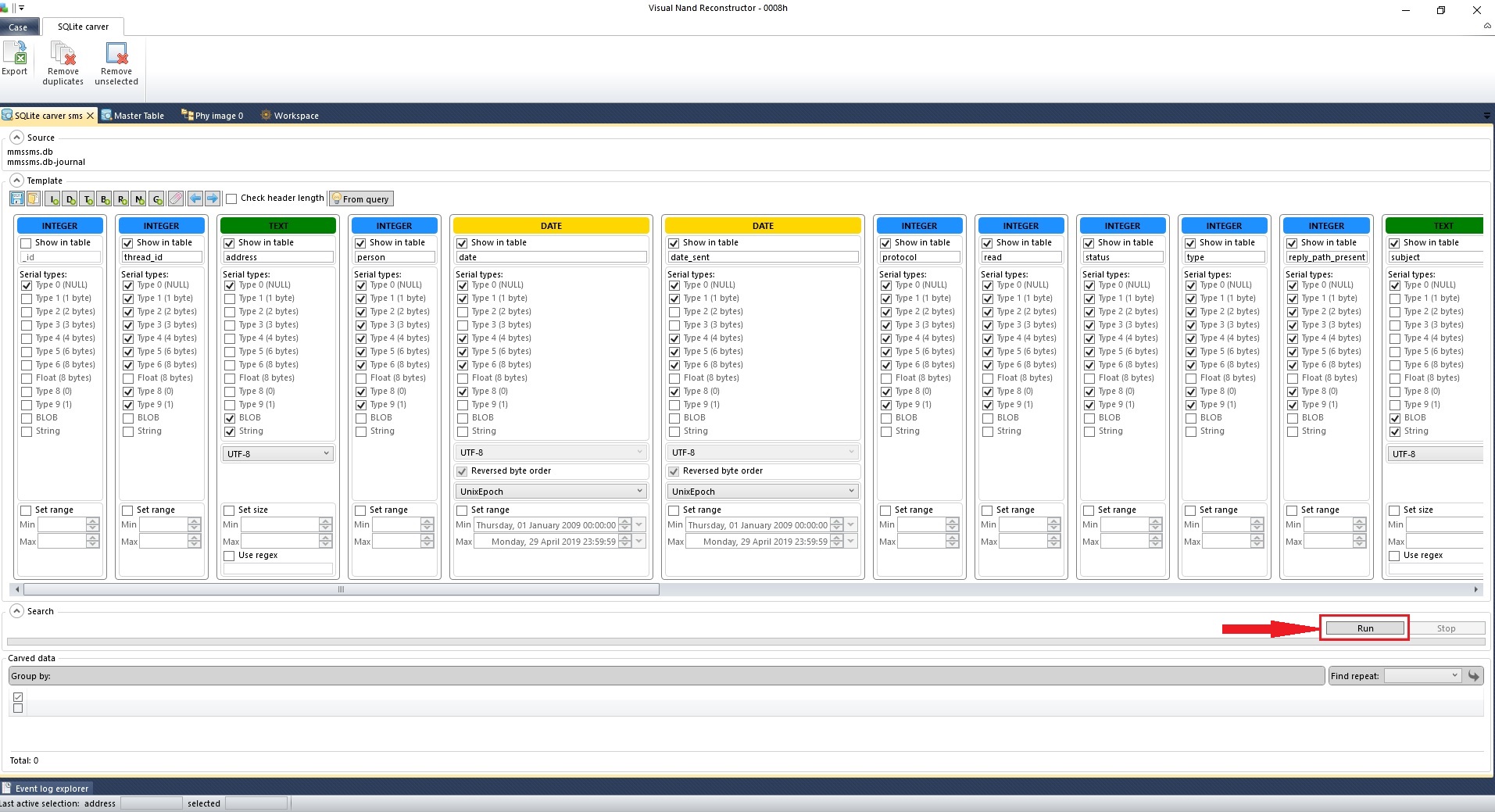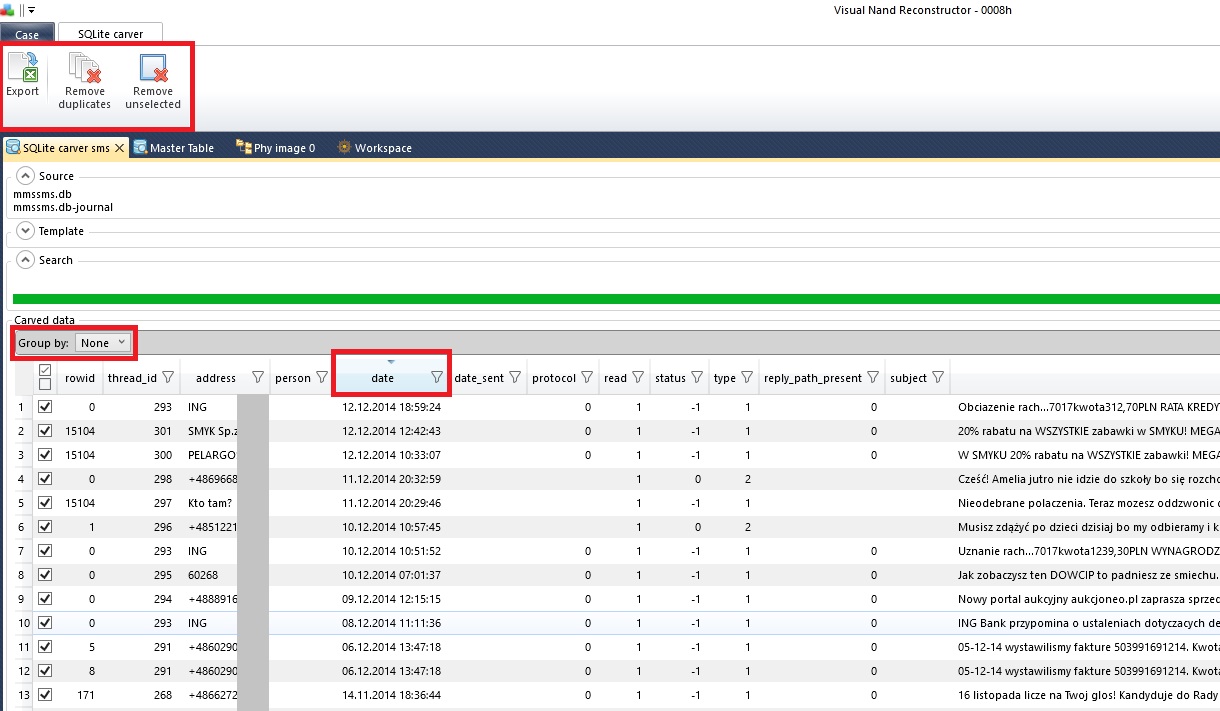 NEW SMART READ RETRY ALGORITHM (BETA)
Rereading NAND flash with read retry helps to adjust reading protocol and significantly improve quality of data. All newest chips have built-in Read Retry mechanism and its usage is the only way to correct majority or all ECC uncorrectable bit errors. In the current version of software it is specifically designed for particular memory chips and available by request to support team.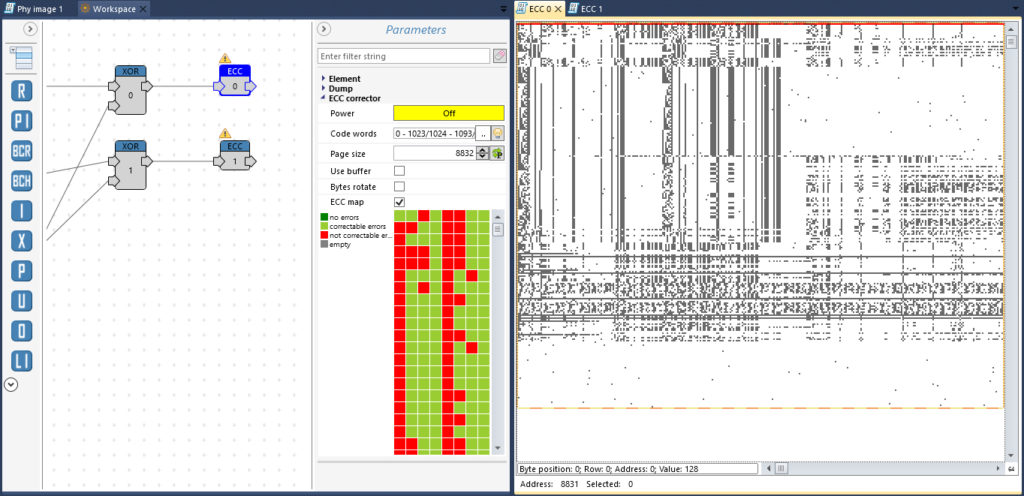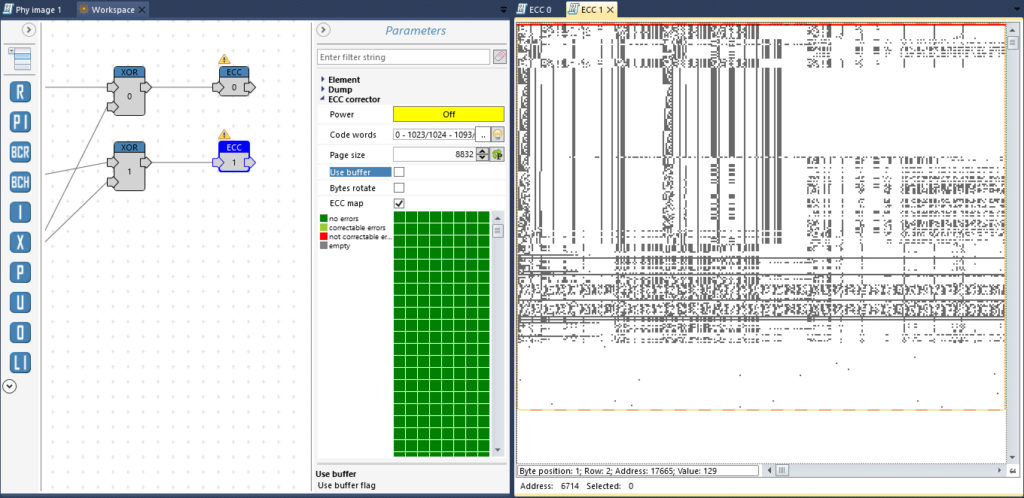 ECC autodetection results are saved even if the window is closed

Select multiple blocks in markers table and change Use flag by clicking the space bar

Infobox with page and block size on toolbar for current element

Copy and paste dump structure on multiple element selection

Default read only flag is removed on Phy image

Click Esc to remove the selection

Bitmap zooms with Ctrl +/- buttons

BCR element now has a bad cloumn counter
And lot more fixes and improvements.
45DE949376 – updated SDR and DDR

2C68044689 – updated

453C86937A – updated

ADD794DA74 – updated

ADD5949A74

AD5C28BA00

453CA9A27A

ADDE14AB42

453A98B376

98D796BA78

ECD788BF90

453C98B376
New scramblers (XOR keys)
Sandisk(18336b_16p_ecc230b_xoredSA)_7634C7_v2

Sandisk(9216b_32p_ecc230b_xoredSA)_C634C7_v2

Sandisk(8640b_32p_ecc18b_xoredSA)_36C669

Sandisk(8640b_32p_ecc98b_xoredSA)_7634C3

TC58(18432b_384p_1218_xoredECC)_80809E_15

SM3257ENQAA(8k_128p)_EFE2F2

SM3268PAB(16k_768p)_E8018F

PS2251-09-V(16k_384p)_9A9EF0
ATJ3315_8640(ecc26)_16

ATJ3315_8640(ecc42)_8

CBM2099E_17664(ecc68)_16

ATJ3315D-X_4320(ecc42b)_4_X

FC1178_9216_(ecc126b)_8

TC58NC6626G6F_18432(ecc190b)_15
New monolithic chip pinouts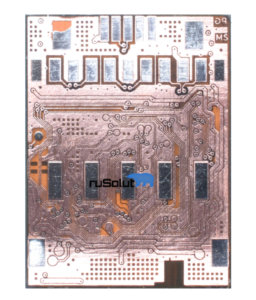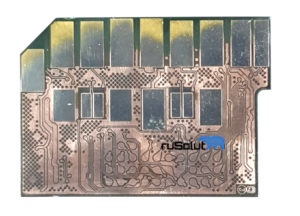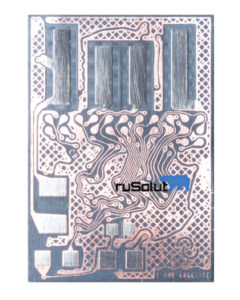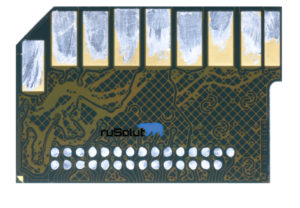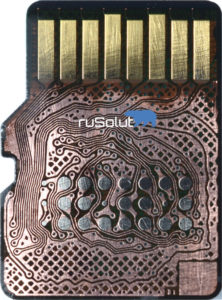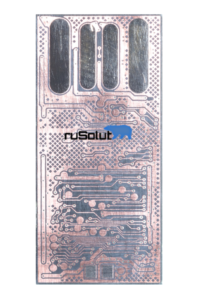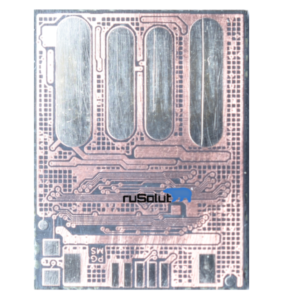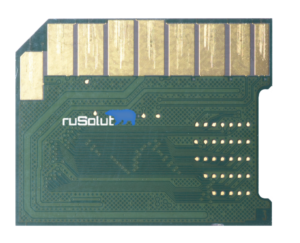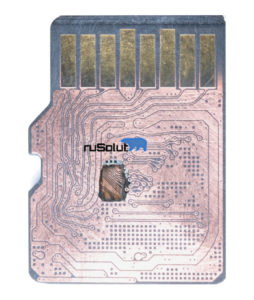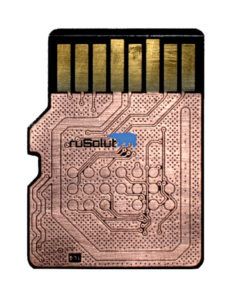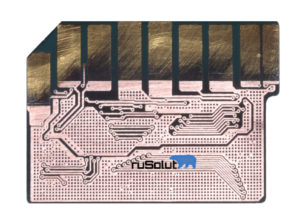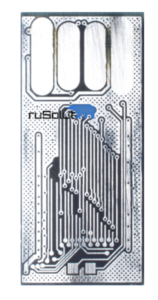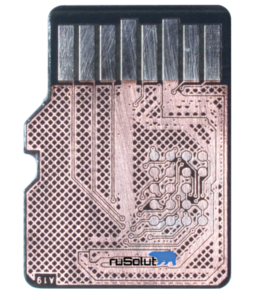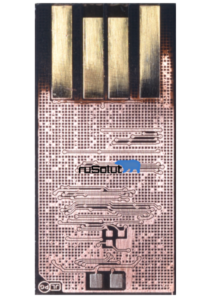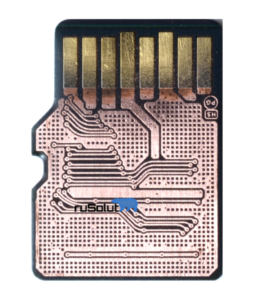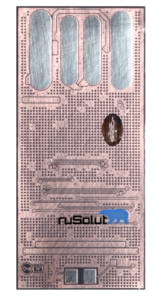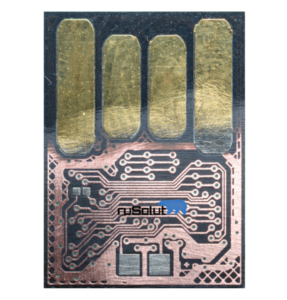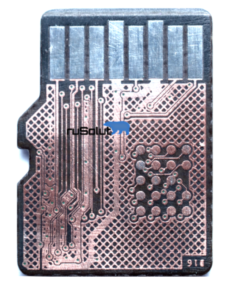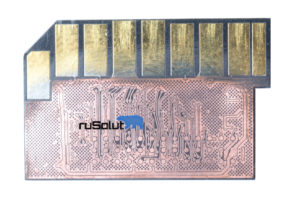 The update is available for all users with Premium Support subscription. To check your subscription status or extend it, please send a request to sales@rusolut.com
Your ruSolut Team