Visual NAND Reconstructor 3.7 update
Dear users,
We are glad to introduce VNR 3.7 update with a new powerful features!
The greatest enhancement of this version is a new XOR analyzer tool that helps to autodetect XOR key fast and with a very high precision! Moreover we have significantly improved precision of ECC auto-detection and added many more improvements.
Among them are:
ECC autodetection has got a new level of precision with automatic logging into a file
MD5/SHA1 hashing for forensic users (works when saving image or anywhere you want in the workspace)
New Read Retry algorithms (especially long waited AD3A180300 and many others)
Pinout analyzer interface and functionality has been improved
Many other minor improvements and bug fixes such as: multiple selection mode dialog, double click on Markers table to open, ECC window improvements, Premium Support status window, etc.
The new XOR analyzer is designed for three main purposes:
Automatic XOR key search in database
Manual XOR key extraction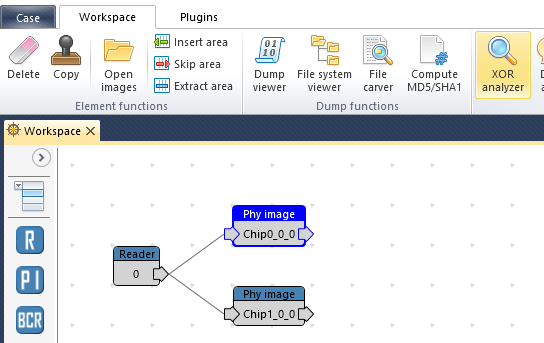 When using XOR analyzer for key search in database the page structure has to be predefined before. We recommend using it on Phy Image or ECC elements. Turning ECC on will slow down the process significantly and usually isn't required. We recommend to use auto-detection mode. When auto-detection is finished all possibly matching keys will be left in XOR key catalog on the right side of the screen. Because in most of cases it's going to be more than one key that match search criteria we have developed special validation algorithm ("Validate key" button) to narrow down the choice of key to one or just several keys.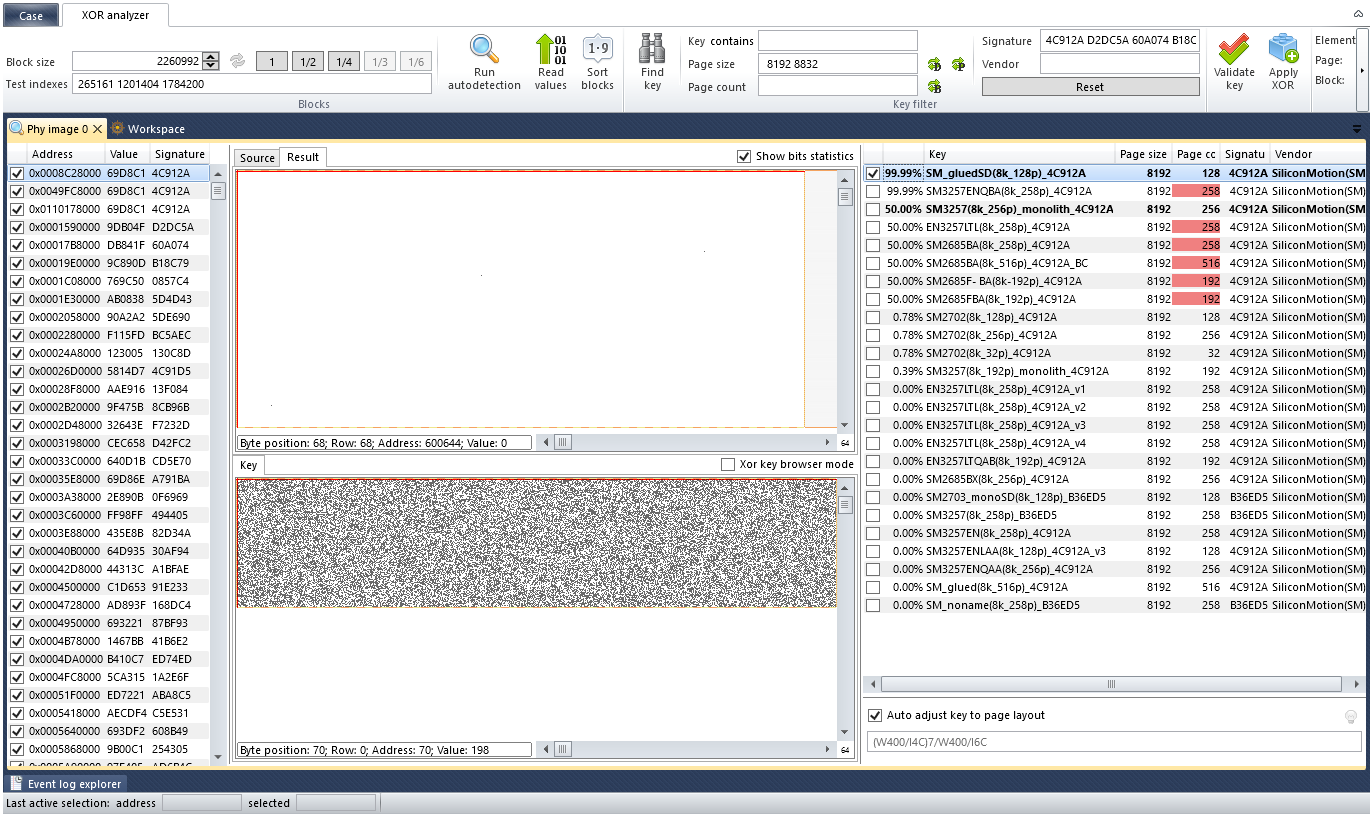 In XOR analyzer it's possible to check each XOR key against every block of the dump (on the left side). Validation by current block will test all filtered keys against one currently selected block. Auto validation will do the same with key probability recalculation as you navigate across the dump jumping from block to block. We recommend to start validation on the very top blocks. If validation does't bring positive results try to change bock size to 1/2 or 1/4 (1/6 in case if your NAND has WL protocol) and run auto-detection again.
The "Source" tab shows bitmap of current block, "Key" tab shows currently selected key and "Result" shows Source + Key (XOR'd). When one or several possible keys have high probability simply mark check boxes,   press "Apply key" button to move them into workspace for further analysis.
When scrolling the keys they automatically adjusted to the page structure. If you need to to look at the keys in original shape (as a catalog) simply press "XOR key browser mode" check box.
In order to extract XOR key from the dump in case of unsupported device check the top blocks in the left table that potentially have a key, select one or multiple blocks (mark check boxes) and press Extract current block / Extract selected blocks.
453EAAA27E

ECDE98CE74

AD5C242601

B564643CA5

45CC9465D4

45D3843272

89A40832A1

2CC40832A6

AD76AD76AD

2CDC909556

2C68044BA4
New scramblers (XOR keys)
SM3271QAC(16k_256p)_E8018F

AU6989(16k_128p)_988EE1

ATJ3315D(4k_256p)_63FD56.xor

AU6989(792p_18432)_988EE1.xor

AUxxxx(16k_576p)_988EE1.xor

IS917(18432b_384p_ecc98b_xoredSA)_DF3C58.xor

Noname(16k_256p)_0F9B46.xor

PS2251(8K_258p)_AF9E02.xor

SM3257(8k_256p)_4C912A.xor

SM3257(8k_258p)_4C912A.xor
PS2251-09-26_17760(ecc78b)_16

CBM2099EA_18592(ecc110.5b)_16

Noname_18048(ecc77b)_16_x

IT1176E-48B_9216(ecc60)_16_x
New monolithic chip pinouts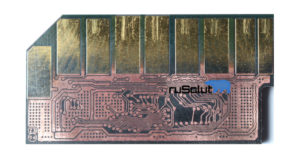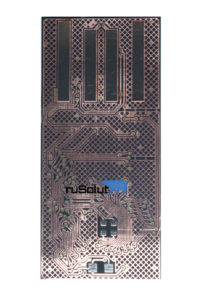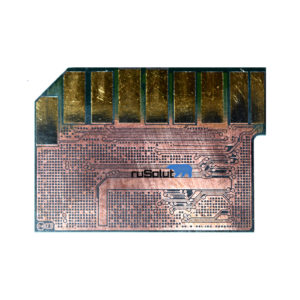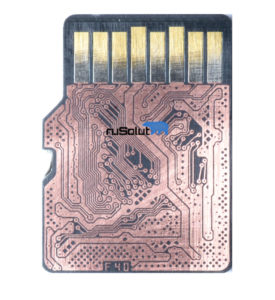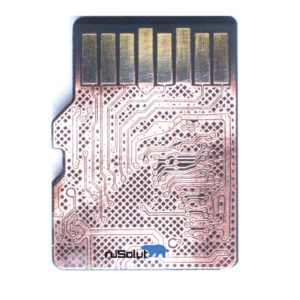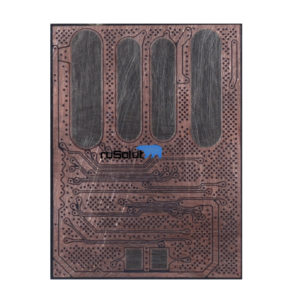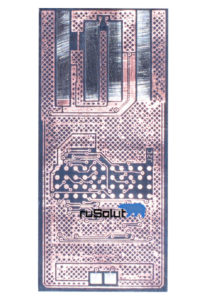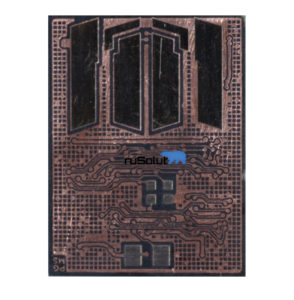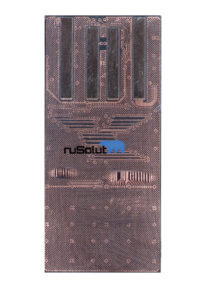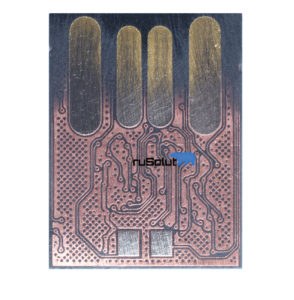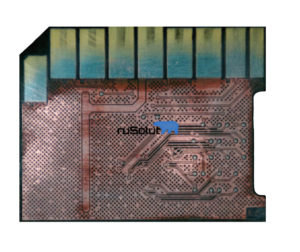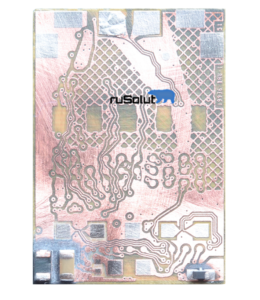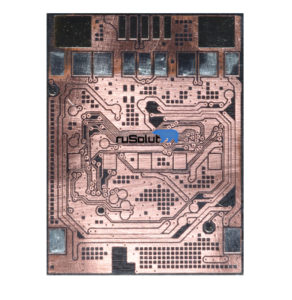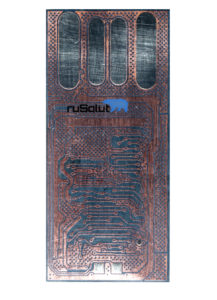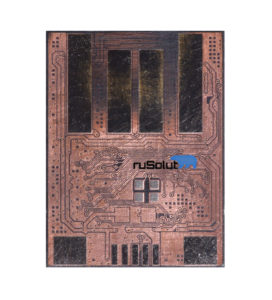 VNR 3.7 is available for all VNR users with active Premium Support subscription in the Client Portal.
To check your support status or extend subscription please e-mail: sales@rusolut.com
Your ruSolut Team