Visual NAND Reconstructor 7.2
Dear Users,
We are pleased to introduce our next update with a huge improvements of the whole experience with Visual NAND Reconstructor.
With VNR 7.2 you are prepared to a very large devices such as SSD and the newest flash media!
Here's the full list of new features:
We have developed solution for WD Green SSD drives based on Sandisk controllers. It was tested for now on 120GB and 480GB models, both with a Sandisk 20-82-00469-2 controller. One of the biggest challenges we encountered was the large number of 4KB data chunks, particularly in the 480GB device, which had over 120 million of them. However, with a new algorithm of data processing, sorting and assembling in Markers table, the process has become significantly faster, and what was once merely a theoretical solution is now practical. Currently, we have solutions for two WD Green SSD disks, but we are continuing to work on finding solutions for more devices.

Dramatic speed increase of operations with small data chunks
Yet again, we have improved speed of work with Markers table element dramatically. The new algorithm of data processing, sorting and assembling in Markers table works

up to

100x faster

that in VNR 7.1.
The speed of processing and sorting of millions if small data chunks is more or less linear and predictable now. Here's comparison with previous software version.
Dramatic speed increase of saving operations
Logical image to Shadow copy
To speed up the process of logical image analysis in VNR File assembler, File carver or SQLite carver it's recommended to save image to a file on SSD disk, rather than working with virtual image in VNR. Now Logical image has option to save its content to a file, using Shadow copy element. Shadow copy element allows you to copy source of the previous element and save it to a .dmp file, which is saved in a main case folder. Moreover and which is the most important, this element keeps the map of copied data in the file, which means that you can cancel saving at any time you want and later copying will be continued from the point where it was stopped.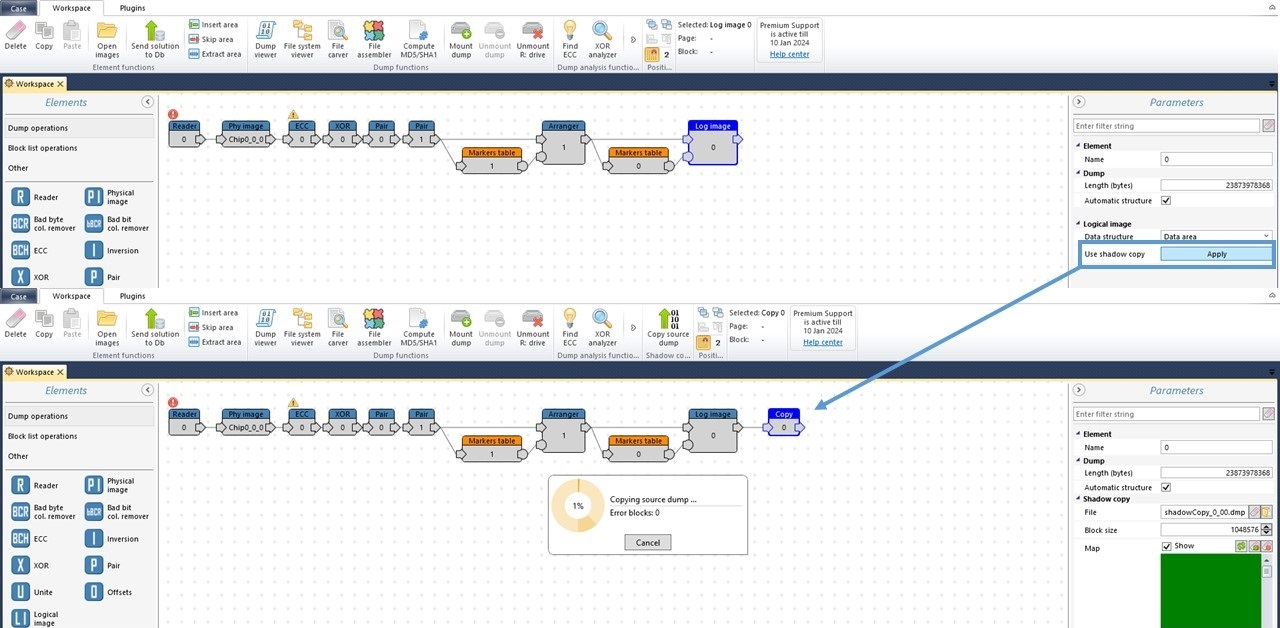 FC controllers - FC1178 & FC1179
bBCR ReRead – ECC reread works now by page and codewords once bad bit columns were removed
FC AI-Xor now has option to adjust the key to SA (set SA structure as service area before)
Other new features and improvements
Automatic AlcorMicro (AU) SA XOR for AI-XOR element (set SA structure as service area before)

Read/Reread physical image from a specific address with a specific length (in eMMC-NAND Reconstructor and in VNR)

Correct dump' and 'Correct dump by GPU' on several ECC elements at once

eMMC-NAND Reconstructor – Reread by Codewords

Bitmap scrolling works faster without any options

VNR Resources DB – added zoom box to enlarge device/controller/solution images. Added options to Add controller/device vendors

YMTC NAND vendor is added (0x9B)
Wrong "Error pages count" on the ReadRetry process

Only one pass Reread by ECC when payload or parity area is divided into multiple areas

'Paste till the end' structure in Structure view crashing VNR
AI XOR elements – all parameters of element are saved to case file now. By default Skip empty area checkbox is checked
Reread process crash. When ECC is after XOR, and payload with parity area is 0000 then during Reread by ECC the reread process may stop. To avoid this error it's necessary to uncheck 'Check Chip' checkbox on ECC elements following the XOR element
453C98B37671

453E98B37672

45499AB37E

983C98B37671

983C98B37672

9BC3482510

AD7E285302
ADDE94A742

453E87937E

45DEA48276

983AA5827A

983CA5937E

98DE948276

453AA4937A

453C9A927A

983CA9927A

983E98B376

983C99A37A

454CA8A276

983A98A376

454899B37A

45489AB37E

454CA89276

453A949376

2C88085F89

89A40832A1
New scramblers (XOR keys)
AU_blob(18592b_2304p_126ecc_xoredECC)_988EE1.xor

CBM2099EA(8k_128p)C32EA6.xor

FC1179(16k_2304p)_0F45C4.xor

IT1167BE(8640b_192p_xoredSA)_988EE1.xor

JMF_ID106(17664b_256p_1102_xoredSA_ECC)_0A46D2.xor

PS2251(16K_256p_PAIR)_AF9E02.xor

PS2251(16K_256p_PAIR2)_AF9E02.xor

PS2251(16K_384p)PAIR_AF9E02.xor

PS2251-70-25(16k_768p)_FA9E80.xor

PS_MicroSD(16k_256p)_0A86BF.xor

SM_MicroSD(16k_384p)_2384C9.xor

SMmonoUFD(18432b_768p_xoredSA)_E8018F.xor

SSS6137(18432b_1152p_1146_xored_ECC)_A500B1.xor

SSS6137(18432b_768p_1146_xored_ECC)_A500B1.xor

Sandisk 20-82-00469-2(18336b_144p_ecc230b_xoredSA)_C634C7.xor
JMF_ID106_17664(ecc70)_16_X.bch

PS_MicroSD_18336(ecc116b)_16_X.bch

SD68I31-AC_blob_4314(ecc13)_8.bch

SM2236_4320(ecc50b)_4.bch

SM3259QAB_18464(ecc121b)_17.bch

SM3259QAB_18464(ecc959bits)_17.bch

SM3259_18336(ecc917bits)_17.bch

SM3259_18336(ecc91b)_30.bch

SM3259_9216(ecc903bits)_9.bch

SM3259_9216(ecc931bits)_9.bch

SM3268M-AB_18432(ecc1001bits)_17.bch

SM_monolith_18432(ecc124b)_18.bch
New monolithic chip pinouts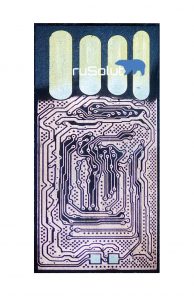 The update is available for all users with Premium/Priority Support subscription. To check your subscription status or extend it, please send a request to crm@rusolut.com
Your ruSolut Team